September 8, 2015
10 Wearable Fall Fashion Trend 2015
Fall is coming so near. Now is the time to switch your spring/summer wardrobe into fall one. And you are wondering what are on trend this fall to shop for. Let we help you in shopping the right items for the upcoming months.
1. Statement Earrings
Minimal effort, maximum impact! Statement earring is really the chicest way to accessorize this season.
2. Neons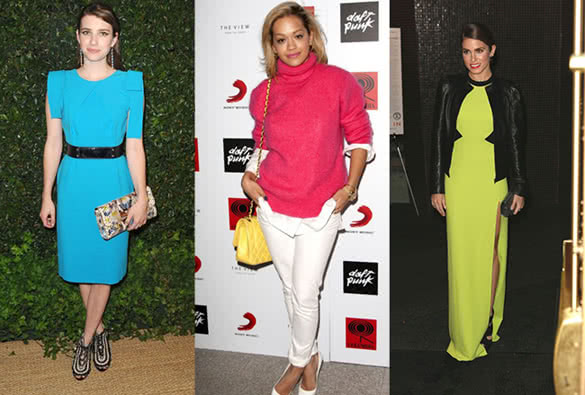 The electric shades that hit their peak in the '80s are returning in a much more sophisticated way, now paired with neutral colors such as gray, navy, or camel.
3.Shearling
For those sub-30-degree days, nothing keeps you warmer than a shearling coat. The trend, which we saw in fall 2014, was once again presented in a bevy of cuts: oversize coats, cropped jackets, nubby vests, and more.
4. Brown
In keeping with this season's love of all things '70s, it's only expected that the color of choice is brown. Liven up the potentially drab shade with rich colors like maroon or copper.
5.Chunky Knits

Sometimes a gal just wants to cuddle up in the biggest sweater possible, right? Well you're in luck, because designers are providing tons of options this season. Balance extra bulk with a slimmer silhouette on bottom.
6. Head-to-Toe Black
The slimming shade that goes with everything—why not wear it all over? Mix patterns and textures to shake up the monochromatic look.
7. Long-Line Blazers
The silhouette of your go-to work staple got an upgrade this fall, looking longer and leaner than years past. Make the piece work when you're off-duty by pairing it with relaxed chinos.
8. Winter Florals

When rendered against a regal teal or red background, floral prints work for winter. Team them with traditional cold-weather fabrics like suede or wool to keep them from feeling too spring-y.
9. Winter Cream
The latest take on winter white is a creamier version of the fashion world's favorite shade. Intricate embroidery removes the stark feeling of the hue.
10. Turtlenecks
The utilitarian staple popped up all over Fashion Week, but we love it best layered under a dress. Ease warm-weather pieces into your wardrobe now with this quick styling trick.
What do you think of the above trends? Give your opinion below.